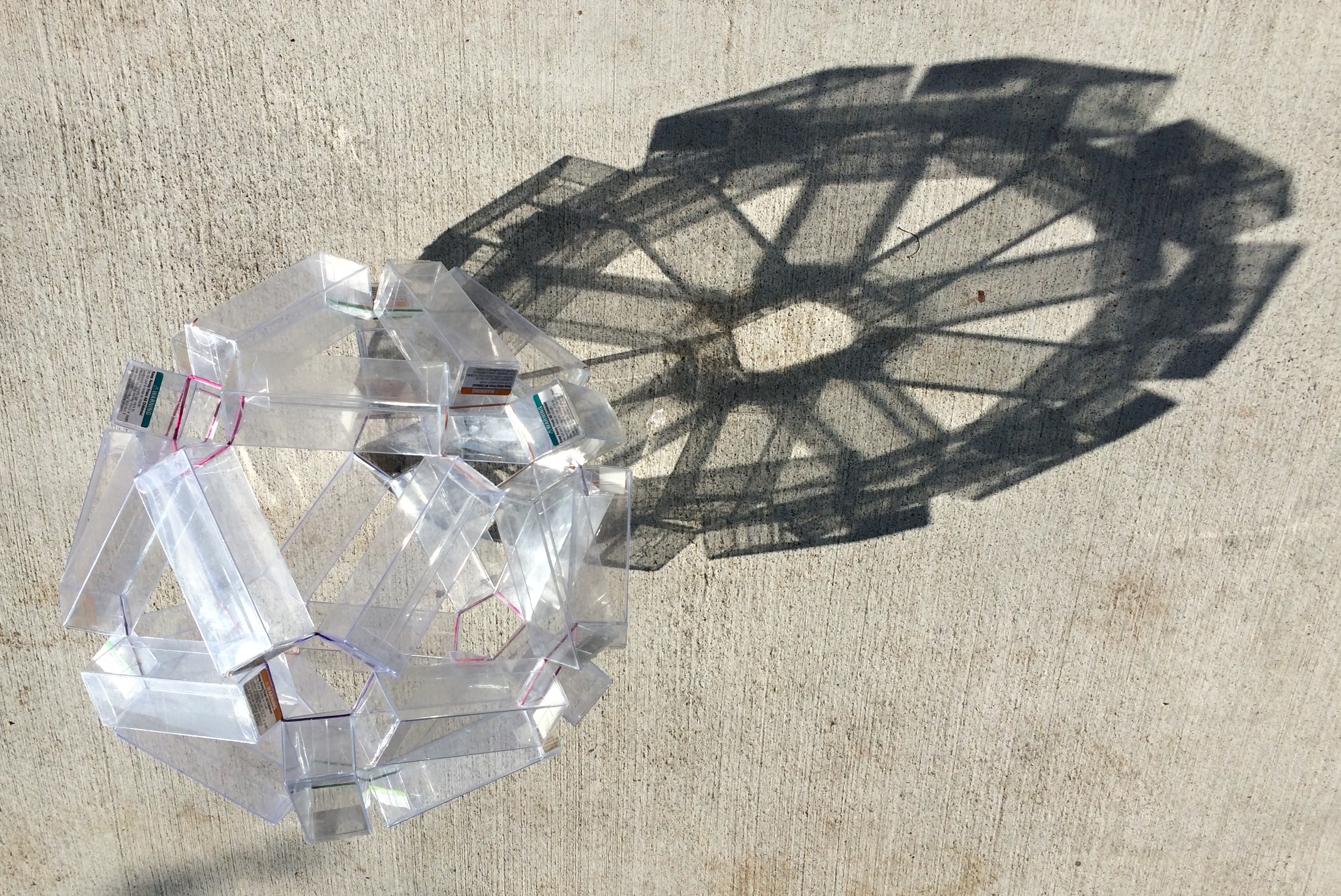 If companies wanted to be serious about getting even slightly more environmentally friendly (and save themselves money as well), they really ought to consider using less packaging. The amount of useless plastic being made just to securely package things in obnoxiously difficult to open clamshell packaging is rather mind-boggling.
Fortunately, sometimes that packaging doesn't need to just get thrown out.
A couple years ago, shortly before people stopped selling them because of potential health risks to children, I bought a lot of those neat little magnetic ball toys. The packaging for these things was rather absurd. A large plastic box many times larger than the size of the balls contained within it. A few more plastic bits to keep everything held "just so" in the packaging. A small paper box with writing on it. And, of course, a small sturdy plastic box to store the magnetic balls in. It wasn't just over-packaging. It was, over-over-packaging. And it made it rather hard to get at the part you wanted to play with too.
My friend Aviv Ovadya was over as I unpackaged them. As we fumbled with opening the packages, he proposed that we re-use some of the excessive packaging in math art (my friends are awesome like that).
I know Aviv through origami circles originally, and I think we both share a bit of the origami "aesthetic". In particular, neither of us wanted to cut attachment holes or just glue the boxes together and be done with it. Fortunately, I happened to have a large package of rubber bands handy, so we experimented with different non-damaging ways of connecting the boxes using rubber bands, settling on creating a nice icosahedral structure with 30 boxes and 40 rubber bands.
If I'd made it more recently, I might have made a blog post about it then, but back then I rarely touched my blog, so that was the end of this particular diversion. The project might have been left undocumented forever, if I hadn't realized a few weeks ago that the rubber bands holding it together had mostly disintegrated, and the structure needed to be trashed (boo!) or completely rebuilt. For the rebuild, I used small hair bands, which should last longer than regular rubber bands. The hair ties were also much more secure, so I only needed 20 of them.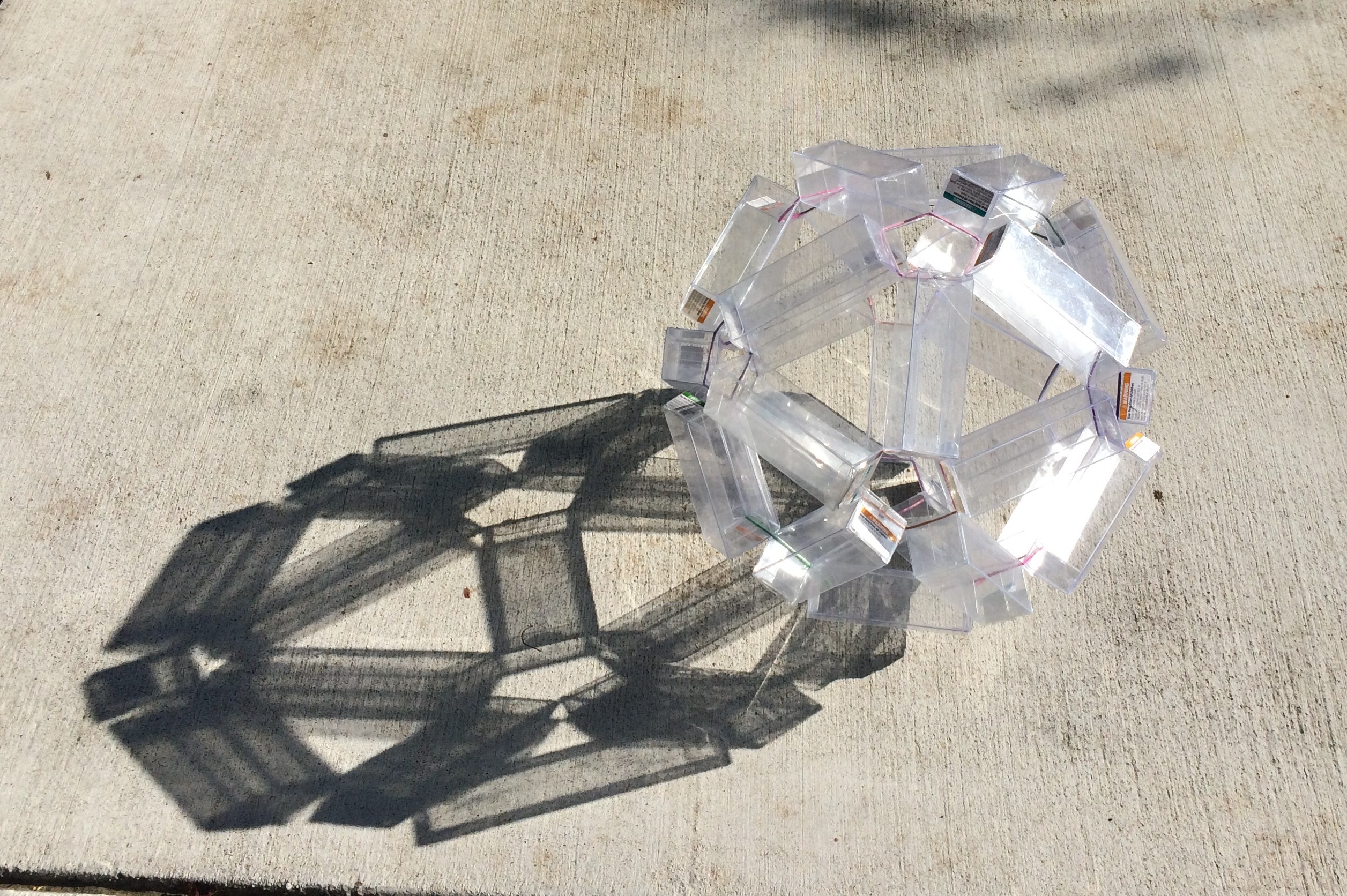 Probably the best thing about the transparent packaging material is how amazing the shadows through it look. Regular geometric objects often have cool shadow projections, but I think the ones here are particularly spectacular.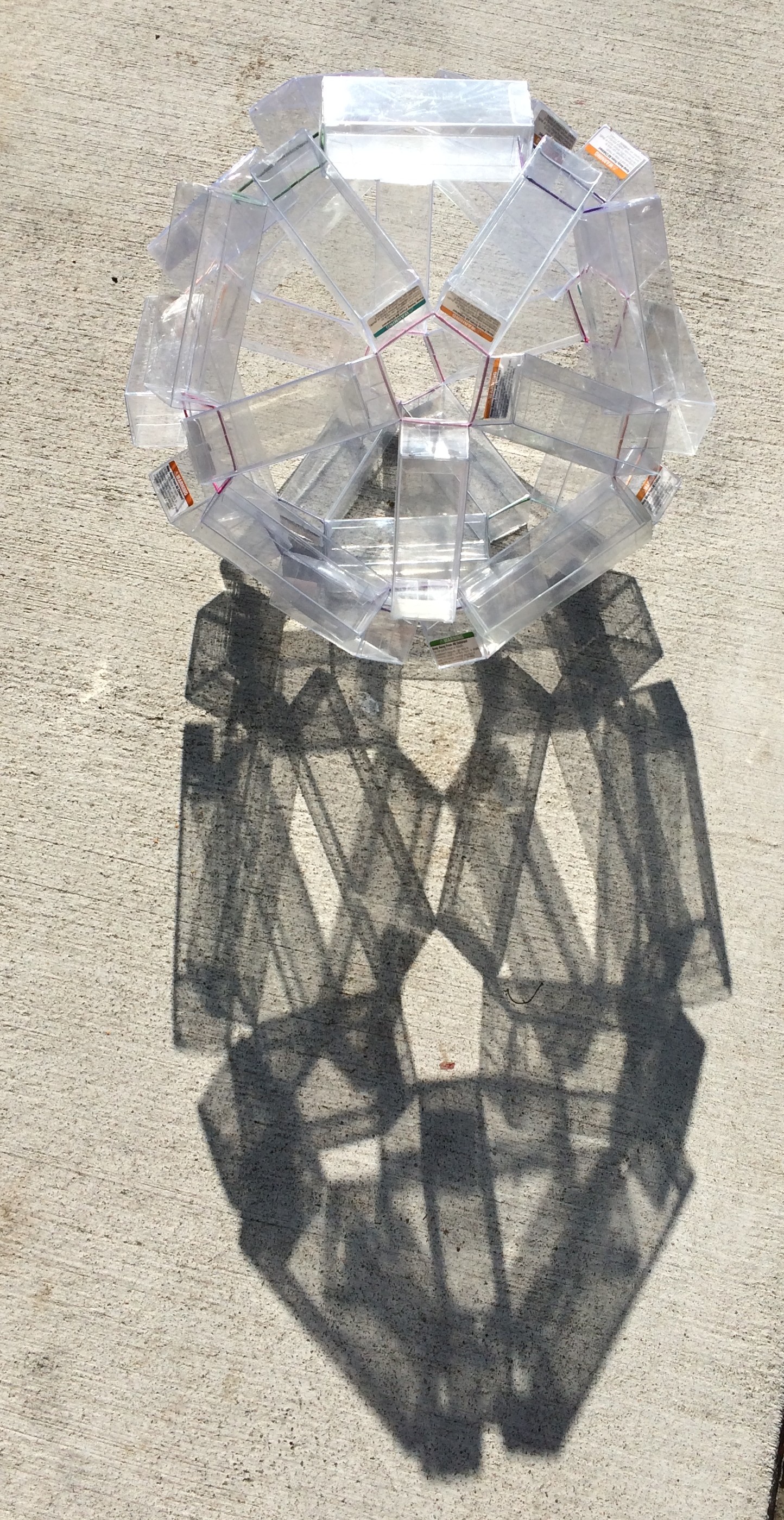 Do you have any packaging trash that could be transformed into something that might (like this) literally or figuratively overshadow the original packaging contents?